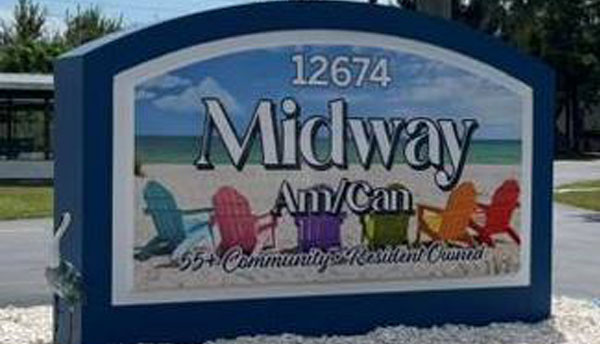 Who We Are
Midway Am/Can Home Owners, Inc. is a cooperative of mobile home owners. We are located on Hwy. Alt.19 in Largo, Florida…between Clearwater and St. Petersburg. We are a Florida For-Profit Corporation & 55+ Florida Cooperative Association. Note: we have no sites for travel trailers or motor homes.
We are located in Pinellas County and are nestled between Tampa Bay and the Gulf of Mexico. Our Park has a community clubhouse, shuffleboard courts and a pay-by-use laundry facility (including a drying yard with clothes lines). All our units have parking for at least one vehicle. Note: We are a "No Pet" park. There is easy access to many beautiful beaches and golf courses, all within 10-20 minutes by car. Largo Mall is located just a few blocks from our Park and has a multitude of shopping options, such as Publix, Target, Bealls, Michaels and many more. There are several restaurants and a movie theatre on the Mall property.
See Our Location and Facilities

Before purchasing or renting (short-term) a unit in Midway Am/Can, prospective owners and renters must have a criminal check done. This can be initiated by Midway Am/Can. Prospective owners are also required to have a credit check. Once these have been completed and the results are deemed acceptable, the purchase/rental will be approved by the Board of Directors.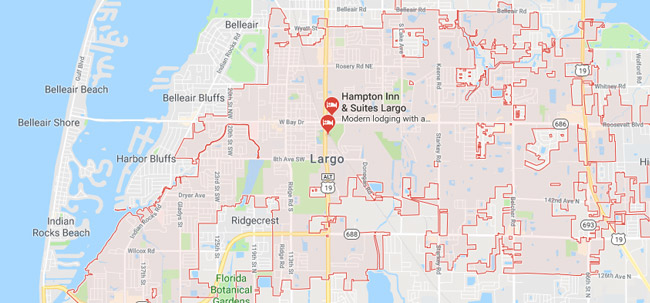 Find Out More About Our Area And Attractions.
Located close to beautiful beaches and natural settings, Largo is famous for being the fourth largest city in Tampa Bay. It offers a a high quality of life for residents and visitors along with affordable living for families and seniors. Our perfect location, community and gorgeous parks make Largo the easy choice for your needs.
Visit The Largo Florida Community Website.
The City of Largo has a population of over 83,000. It is the 4th largest city in Tampa Bay and has 646 acres of park land. With over 4,500 businesses in Largo there is always something to do or some organization/activity to become involved with. Stay informed with all the goings-on in Largo, find answers to community/municipal questions, and stay up-to-date with the latest happenings by visiting their website..